Nicholas (Nick) Roberge, Senior Geospatial Intelligence Analyst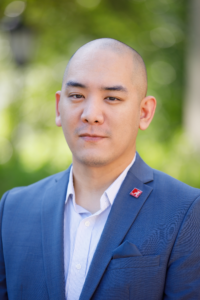 Nicholas (Nick) Roberge has worked a variety of roles in the US and in Japan from teacher to intelligence analyst. Most recently he participated in the NASA DEVELOP program as an analyst using NASA Earth Observations to assess hurricane damage.
Nick has also spent time as an English teacher in Japan, working with children from kindergarten to junior high school. Prior to teaching, he was a geospatial-intelligence analyst in the U.S. Air Force for six years, analyzing imagery from remotely piloted aircraft and planning U-2 reconnaissance missions. During his time in the Air Force, he also served at the National Geospatial-Intelligence Agency (NGA), where he was an imagery analyst focusing on East Asia maritime security.
Nick has recently completed a web development program through devCodeCamp. He has earned a bachelor's degree in international studies from St. Norbert College, as well as a master's in GIS development from the University of Wisconsin.